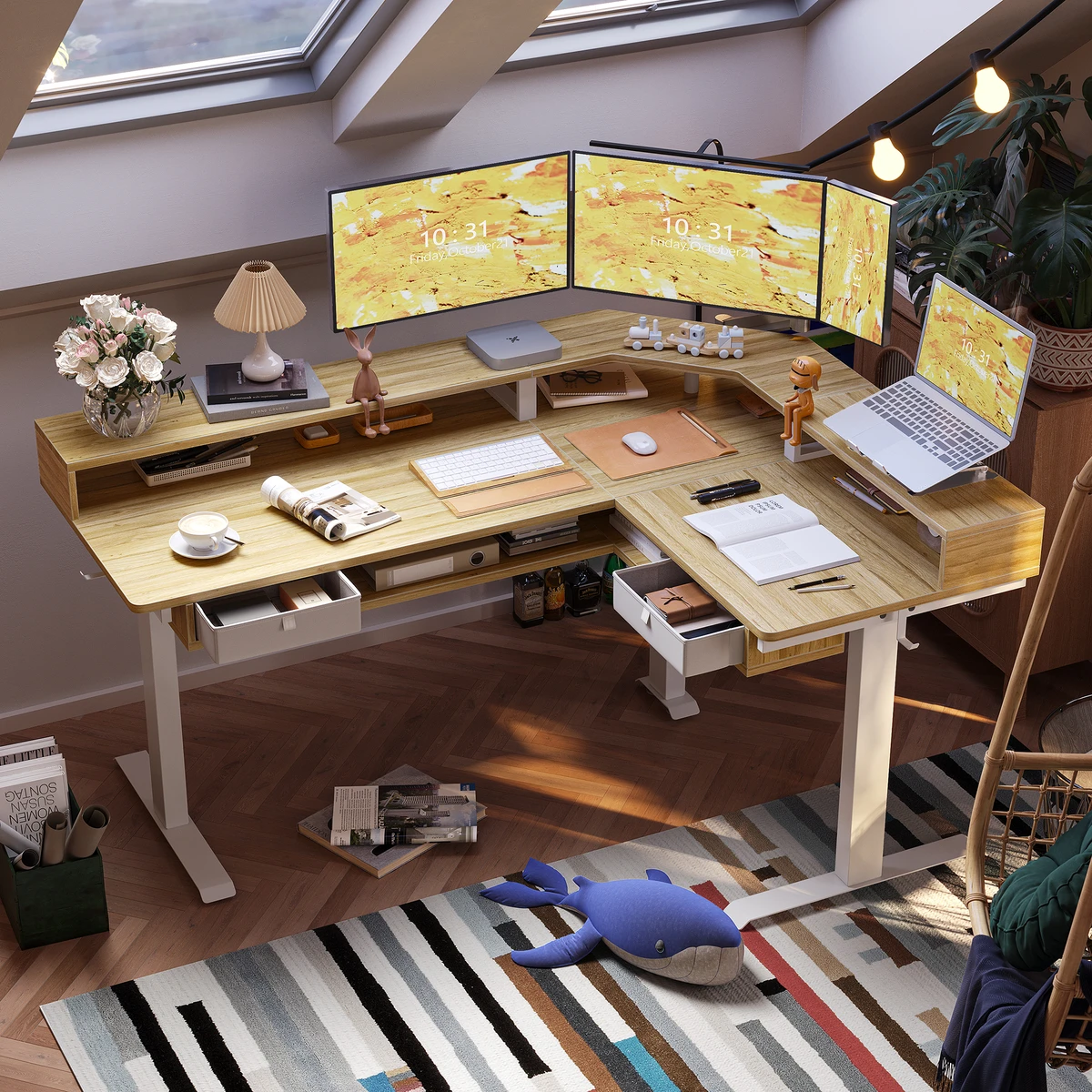 Most of the friends who choose the electric standing desk are unwell because of long-term sedentary office work. Needless to say, if you want to improve the office working environment through electric adjustable sit stand desk, the harm of sitting for a long time, there are many introductions on the Internet. The electric lift table is not only a simple lifting function, but also changes our office habits. It can promote blood circulation in the body, relieve sedentary fatigue, and improve concentration and office efficiency to a certain extent. Not only adults can use it, but children can also use it at home, which truly meets the needs of users of different scenarios and ages.
Electric adjustable height desk structure introduction
components
With these parts, the electric linear actuator can realize the lifting function. The linear actuator is mainly composed of three parts: the main shaft, the motor and the gear. Electric lifting tables are generally divided into single motor and double motor. "Is the electric small standing desk better with dual motors or better with single motor" here is a detailed distinction and introduction. The two motors can synchronously lift the left and right sides through the controller, while a single motor can only drive the other side to synchronously lift through the middle transmission shaft. The load of the motor is different, so the vertical speed is faster and smoother than the two motors, but the price is relatively more expensive.
Lifting column
The picture above shows the structure of the lifting column, which has 2 sections and 3 sections, which are divided into normal installation and inverted installation. It is easy to understand by looking at the picture. The lifting distance of the three-section column is greater than that of the two-section column. Formal installation is more stable than inversion, but inversion will not swing from side to side, each has its own advantages and disadvantages. Most of them are formal installations on the market.
desktop board
The table is also a very important part of the electric height adjustable table. Users can choose different sizes and plates according to their needs. If it is a DIY lift table, the best choice must be custom-made solid wood panels, which will be more expensive. Because of the price of solid wood boards, there are many electric lift table manufacturers using composite boards and density boards on the market. The conventional sizes of the desktop are 120cm60cm, 140cm70cm and 180cm70cm.
We will introduce standing gaming desk and standing computer desk later.
Here we recommend FEZIbo a cost-effective electric standing desk.
Triple Motor Reversible L-shaped Standing Desk with Upper Drawers V2
Quality and budget savings can be guaranteed with L shaped standing desk
Our triple motor l-shaped standing desks share the same good quality as their counterparts priced over $1000 on the market. But we offer lower prices so to make our adjustable desk with drawers "small profit, big sales" and more budget-friendly. It is proven by us that trend and excellent quality are not an issue of price. Certified by: EPA, CARB ATCM, UL, ETL, FCC, ect.
A Desk for Everything
We designed our desk storage system for a workspace with clarity and intention. We started by elevating our screens to create ergonomics. Meanwhile we also creating a subtle organization zone and ample drawers for storage. It gives you a place to help everything on your desk live in harmony, from knick-knacks to monitors. We recommend using it in conjunction with the best ergonomic office chair.
The New Reversible Models ——
Flexible Right/Left Orientation
Reversible Triple Motor L-shaped Standing Desk can be left-sided or right-sided, allowing for even more flexibility.
More Personalized Options
You may not be satisfied with the limited styles of the past. So in this new series, we offer you a wider range of customization options.
5 Desktop Colors
3 Wood grains: Rustic Brown, Black Walnut, Light Walnut 2 Solid colors: Black, White
3 Frames Colors
3 color frame options in Black, White and Grey with more combination possibilities.
2 Sizes
With 63″ and 75″ sizes to choose from, you can find your satisfaction in both large and small spaces.
Standard Keypad
-Basically Up/Down Buttons: Adjust the Desk height up and down. -3 Preset Buttons: Easy one press to raise/lower to the memory height. -Anti-collision: Effectively protect your desk and items and reduce collision damage.
Triple Motor Frame
Triple Drive for Stability
Three motors work together and drive jointly to give you a more solid experience of use.
1″/sec (25mm/sec) lifting speed, making your standing and sitting switching as silky smooth as milk.
With a 265 lbs (120kg) load capacity, feel free to place your desk setup without worrying about overwhelming.
Mid-Century Modern Electric Standing Desk
Modern All-American Style
A rarely found modern All-American style standing desk, with both ample storage and elegant appearance. This user-friendly design with the small middle and large two sides of the 3 under-desk drawers offers ample space without compromising the leg room.
3 Drawers
3 under-desk drawers for easy access to stored items, while giving yourself a clean and tidy work/study desk.
The Whole Board Design
Smooth and seamless, the overall desktop is better and more beautiful than the spliced board.
Full Surround Design
The full surround design provides a sense of composure while hiding the motor and cables from the horizontal view for a more harmonious look and feel.
Quiet Motor
The running sound of the motor is <50db, so don't worry about disturbing family members or colleagues.
Stand Up For Health
27.6″-47.2″/70-120 cm lifting range fit for people from 5'2″ – 6'3″
Keypad
Up/Down: Steplessly adjustable height
3 Pre-Set Heights: Adjust to the preset height with one press, easy to switch between standing and sitting.
---
Impressum
standing desk
---
Kommentare und Meinungen