As more freelancers work remotely, operations managers may be placing more demands on desks used in home offices. There are a few key points to keep in mind as you start researching seated and standing options. After all, a desk that works for someone in the office may not be suitable for use in a home business. For example, space constraints may need to be considered or concerns about how the work will look in the space. Regardless, operations professionals tasked with equipping home offices with standing desks have plenty of alternatives to explore. That's why it's important to recognize the basics of a standing desk for home office use.
Height selection range
When choosing a standing desk for a home office, it's important to note that the range of height options will vary, and adjustable height desks are recommended. Therefore, operations managers need to evaluate possible alternatives. The recommended range for a standing desk is between 22.6 and 48.7 inches. Of course, you need to consider the physical height of your employees to choose the correct height. If more than one person is going to use it, then this information needs to be considered as well. As a general rule, the surface of the table should allow the person's forearm to rest, with the elbow parallel or slightly below the table. Also, the height of the desk should be such that the top of the computer screen is eye-level.
Sedentary is the new way of smoking. The easiest and most sustainable way to combat the effects of sitting is to have a standing desk. The FEZiBO standing desk was born under the idea of minimal design in pursuit of maximum comfort. Minimize design and maximize comfort.
The electric standing desk uses a practical and eco-friendly table top, the one-piece design makes assembly easier and the table top is more sturdy. By offering up to 8 colors and 4 sizes, you can design your desk to your liking to get the perfect desk for your daily work and life. Best of all, the laminate withstands pressure well, is eco-friendly and affordable. Eco-friendly and durable bamboo table tops support sustainable consumption and production patterns. Bamboo's unique texture is a gift from nature, leading us to embrace nature. Calm down, slow down, and enjoy a life-work balance.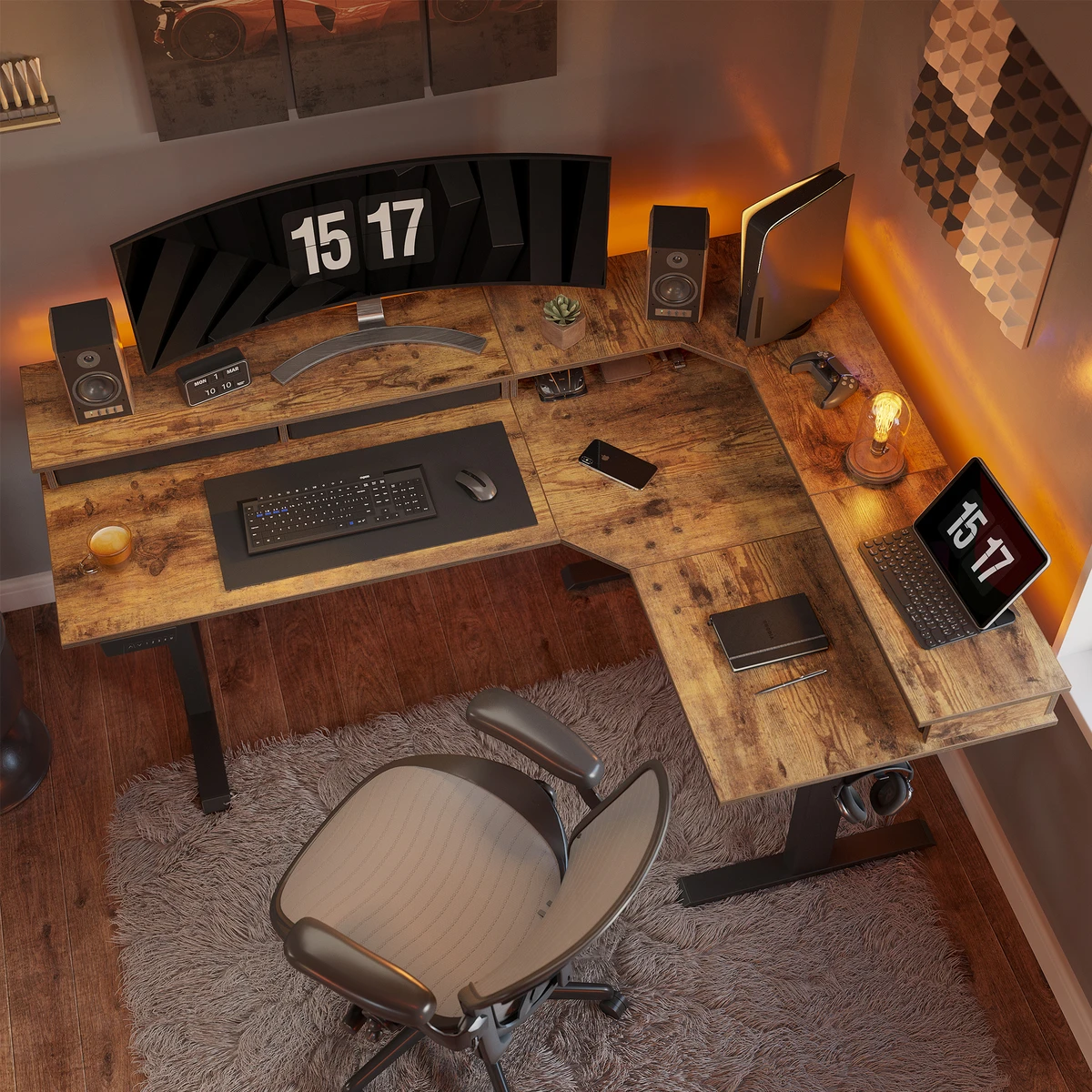 Style and color
Once you have narrowed down the options based on height requirements, the operations manager should review the styles and colors offered. Standing desks are made from a variety of materials and are available in a variety of colors. Some are real wooden standing tables, while others are made of all man-made materials. You should consult your staff before making a decision. This way, you can ensure that the style and color of the standing desk matches the rest of your home office decor, such as the white glass top standing desk. Rest assured, you'll be able to find a standing desk that will satisfy even those who do remote administrative work.
Modern glass desks are a great choice for modern environments. They find a modern look and sleek design that complements your home's interior. Equipping your home office with a glass desk can add a professional look to your home workstation and enhance your focus.
Since they are transparent, glass desks appear lightweight and not bulky. The desk is unobtrusive and adds a touch of minimalism to the room. They come in different styles to complement your interior. Plus, glass desks can be paired with other materials like metal and wood to complement your home office decor. Glass desks are easy to clean compared to wood desks that get dirty and hard to clean. You can clean them simply by wiping with a soft cloth and cleaning solution. After cleaning, they look gleaming with no stains or debris on the surface.
Types of lifting mechanisms
There are several different types of lift mechanisms that allow you to adjust the height of a standing desk. They are usually electric or manual, but desks that do both can be found. At home, having a desk close to an electrical outlet may not make an electric lift a viable option. To fix this, you will need to rely on the manual option. The most common manual lift mechanisms are cranks and levers. The crank standing desk requires some physical exertion, but the manufacturer claims it is almost effortless. Raising and lowering the table with a lever involves a system of counterweights that can be activated by air or springs. If your employees want a standing desk with the least amount of noise, recommend a desk with a spring bar.
Elevating your desk by manually turning the cranks effectively moves your wrists and keeps you refreshed during long hours of work. On the other hand, switching between different standing and sitting positions will increase your productivity and keep your mind more active. Plus, cranky standing desks allow you to enjoy such a great product at a low price. The small standing desk without motor drive are more environmentally friendly. During the shaking of the table, you will feel the gentle rise of the table from a synchronized angle. You who love manual labor should also enjoy using this primitive tool. Thanks to the crank system, the table frame has been carefully designed for safe, reliable and fast height adjustment. The Crank Standing Desk's sturdy iron frame can hold up to 176 lbs, with desk heights ranging from 28.9″ to 45.1″ (wheels not included).
Storage options
Many people find standing desk storage options a necessity. Fortunately, some pricier standing desks offer multiple drawer types. Some standing desks come with built-in side drawers, or they can be attached later. Plus, some come standard with a small pencil drawer and space for your personal planner. However, most of these workstations do not offer storage. Since this basic functionality is a limitation, operations professionals should consult with their staff regarding their home office storage needs. By doing so, they will help you narrow down your search for the perfect permanent solution.
Standing desk with drawers has two drawers, (non-woven: light and wood: durable) enhance the overall decor. The benefits of drawers are as follows, you will have a wider, more efficient space and enjoy a minimalist lifestyle. Organizing your items through drawers also makes it easier to organize.
Convenience function
1. The standard keyboard includes up and down functions, and adds memory and anti-collision functions.
2. Memory function: memorize your favorite height to adapt to different scenes. Then you have your hands free – no buttons to press during the lift.
3. Anti-collision function: protect the table from collision. The table will automatically stop when it encounters objects under the table, such as coffee cups, books, etc., during the lifting process.
4.USB: The USB port is right next to you when your phone needs juice
5. Type-C: Type-C on the keyboard provides an extra power outlet for your essential appliances.
6. Child Lock: Worried about your kids playing around and adjusting the table? Child locks can prevent the above problems. Keep the table still until it stops. Child lock makes you worry-free.
---
Impressum
yangsebrina@gmail.com
---
Kommentare und Meinungen